Why KidsCentre?
Our program at KidsCentre, Inc. focuses on the social, emotional, and intellectual development of each child as an individual. We use our urban environment and whole-child curriculum to encourage children to develop their own interests while learning appropriate social and emotional skills.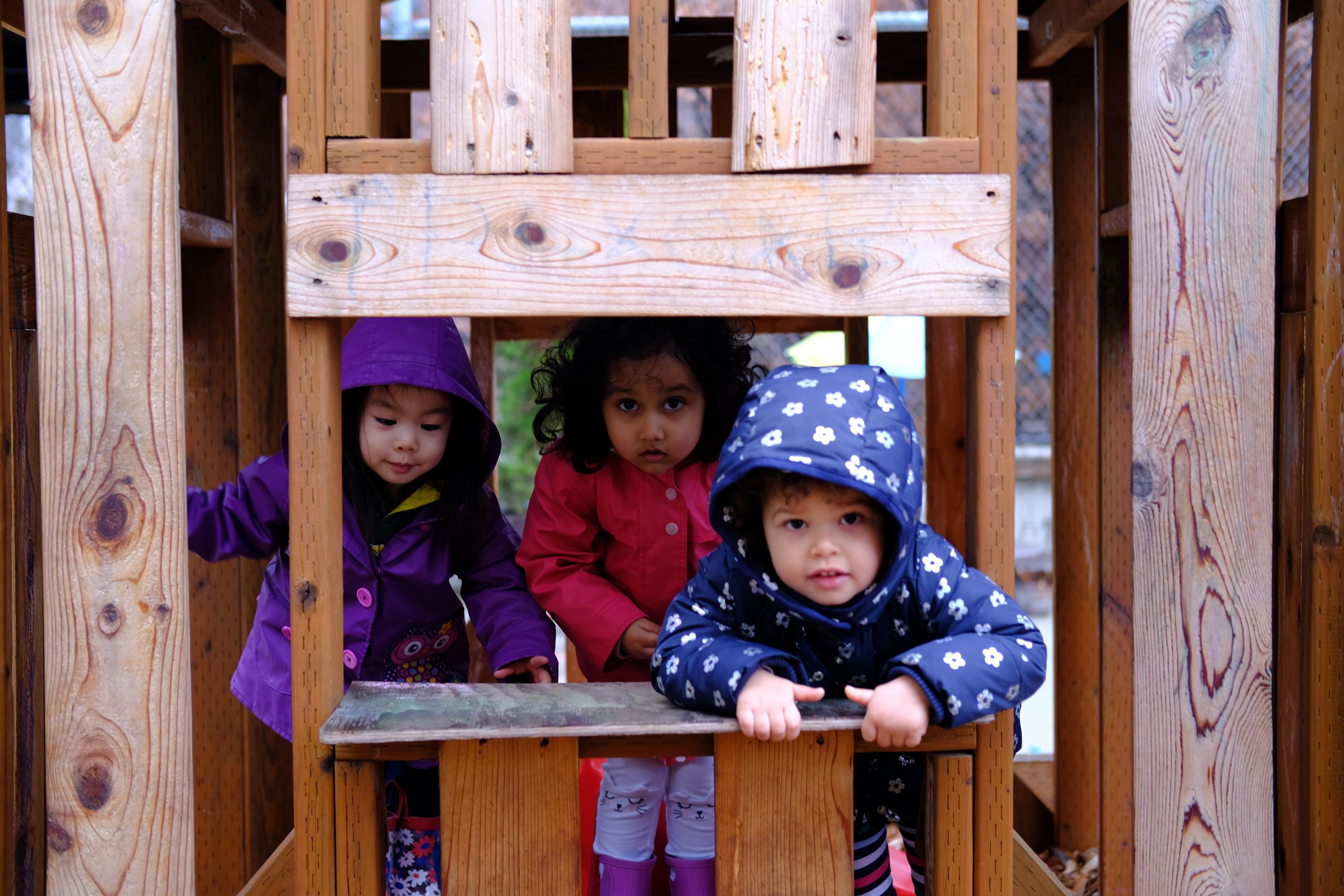 "We LOVE KC. They were always my first choice and my favorite tour. What stood out to me was that the center felt like a place where play and creativity were at the forefront. That impression has played out as accurate."
-Natalie F
"It cannot be understated the gratitude we feel as first time parents to have staff that have guided us and our daughter through the transition into daycare, as well as through her milestones like rolling over, sitting up, starting solids, and teething. They offer reassurance along with insight into our daughter's development and tangible tips on how to support her as she grows and learns. We also love their HiMama app where we can communicate with her teachers, get photo/video updates during the day, and check in on her schedule (did she sleep? how many bottles has she taken?) throughout the day. We can also share photos/videos with our family members through the app, who absolutely love it."
-Kaetlin M
"Our son has been at KidsCentre since he was almost 5 months old, and I cannot say enough about how fantastic the staff and the programming is at KidsCentre.  They are true professionals in their field, focusing on early childhood development and education in very fun and age-appropriate ways."
-Carrie D
"KidsCentre provides a caring and nurturing environment with dedicated teachers and staff. My kid started when she was 5 months old and she is now almost two. I never thought my shy little baby girl would become so bright and talkative. Teachers are amazing. My kid loves field trips to SAM and Pike Place Market. She also loves to go out for playground and gym every other day at school. Can't say enough great things about this daycare located in Seattle Downtown."
-Jean K
"Our daughter has been attending KidsCentre since she was 4 months old and while we weren't sure at first if daycare would be the right option for us, KidsCentre immediately put those doubts to rest. From day one, our daughter has loved the teachers and she is always in great spirits when we drop her off and pick her up. They offer a nice variety of toys and activities to keep her engaged and she has developed positive social skills from being around a diverse group of teachers and children. We couldn't recommend this daycare enough and feel fortunate to have found our daughter a second home here."
-Anna G
"We can't begin to express how thankful we are to have been able to enroll our son in the Kindergarten program at Kids Centre.  The Kindergarten program allowed him to have in person learning with caring teachers and a consistent and loving environment through this turbulent year. Our son hasn't had much screen time in his life so the proposed alternative of purely virtual learning would have been an extremely difficult transition for him.  The program is really well structured and allows kids to learn at their own pace.  His teachers brought a lot of contagious excitement to learning. It's a joy to see our son excited about a variety of subjects and he can't wait to tell us about them. We're very thankful that we've been able to be part of this Kids Centre family that has shown such wonderful care for our son."
-Karol S
"We are so happy with our decision to enroll in Kindergarten at Kidcentre. The curriculum has been very diverse, the progress our child made with math, reading and writing was more than we expected and the balance and harmony of the three teachers has been wonderful to see. Thank you for creating this dedicated and safe in-person learning space in a year of uncertainty and change! "
-Lauren K
"KidsCentre has been a life saver for our little guy. He was not doing well with remote learning last spring and I couldn't see him continue for the important year of Kindergarten. He is THRIVING under Ms. O and Mr. Miller; they really 'get' him and he is learning and growing so much. Here we come first grade!! "
-Tracy R
Frequently Asked Questions
What's included with tuition?
At KidsCentre, we take pride in the fact that we provide three meals a day at no additional cost to the parent.  Vegetarian and other special dietary and allergy options are offered as well.  Further, diapers and wipes are provided but if you want to use a specific brand you must supply them.
How does the waitlist work? How long is it?
We maintain a list of families who are interested in joining the KidsCentre family. Families give us some basic information including: their contact information, age of their child, and the date they would like to enroll. We contact families on the wait list as spaces become available. If the opening is a good fit for the family, we begin the enrollment process. If the family asks us to do so, we keep them on our list for future openings when the timing might be better. Currently enrolled children do have priority status when it comes to an opening in each room. 
What are the group sizes and child to teacher ratios?
Our ratios depend on the age of the children in the group. They look like this:
Infant Room – ages 3 months to 12-months-old; child-to-teacher ratio: 3:1
Penguin/Guppy Rooms – ages 1 year to 2 years old; child-to-teacher ratio: 4:1
Turtle/Otter Rooms – ages 2 years to 2.5/3 years old; child-to-teacher ratio: 5:1
Raccoon Room – ages 2.5 years to 3 years old; child-to-teacher ratio: 5:1
Monkey/Seal Rooms – ages 3 years to 4 years old; child-to-teacher ratio: 7:1
Moose/Whale Rooms – ages 4 years to 5 years old; child-to-teacher ratio: 8:1
What will a typical day for my child look like?
Most of our children are here at the center for 8 to 10 hours each day. It is our goal to provide a relaxed pace, with a balance maintained between indoor and outdoor-time, quiet-time, and active-time, individual or small group activity and larger group occasions. We provide two full meals and two snacks every day. Each classroom has a schedule which is followed daily to provide children with a comforting routine. Teachers plan activities during the day based on the interests of children in their groups, taking care to provide a variety of choices to meet individual needs within the group. Of course, in the Infant room we work very hard to respect each baby's individual schedule, allowing babies to eat, sleep, and play as their body dictates. 
Do you follow a certain curriculum?
KidsCentre, Inc. utilizes a variety of standards from well-known teaching approaches such as Montessori, Reggio Emilia, Waldorf and The Creative Curriculum. Our teachers are given the creative space to prepare their monthly curriculum programs while incorporating appropriate standards from these teaching methods for early childhood education. The children are presented with activities and opportunities that will enable them to strongly develop their social/emotional, physical, cognitive, and language abilities. Our programming directly meets the current needs of children while providing them with a solid early childhood foundation, equipping them to confidently enter elementary school.
We also align our program with the Washington State Kindergarten Standards, Common Core Standards (Pre-K), Washington State Department of Early Learning and National Accreditation Commission for Early Care and Education. 
Our curriculum is presented so each child can experience a wide variety of developmentally appropriate activities and opportunities to enhance their growth and development. These activities include math and literacy, kinesthetics, creative art, fine and gross motor development, and project-based learning units. 
What are the staff requirements?
We do have several requirements for our teachers here at KidsCentre: 
A minimum of one year of teaching experience with children 3 months to 5 years old 
A minimum of CDA credentials, AA in Early Childhood Education, or a Bachelor's degree or higher in Early Childhood Education is preferred. 
Completion of 30 hours of STARS Child Care Basics Course 
Have or receive within 60 days of employment the following: 
                          o CPR training 
                          o First Aid training 
                          o HIV/BBP training 
Have or receive within 30 days of employment the following: 
                          o TB test 
                          o Fingerprints 
                          o Background check 
Send us an email with your child's name, birthday,  and required start date, and we'll get back to you as soon possible!